The "Just the Facts, Ma'am" Bio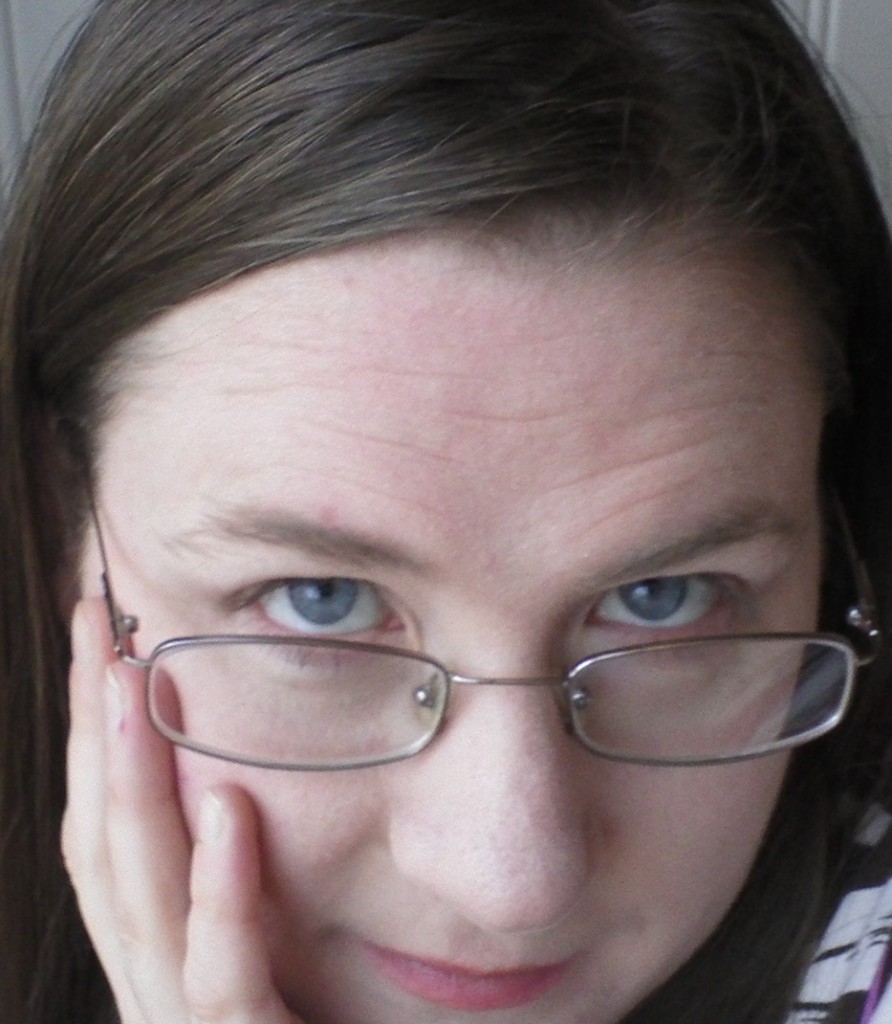 By day, I am mother to my five children and wife to my husband of nearly 20 years.  By night I am Super Cool Author of books for kids of all ages (and their adult family members as well) and 1st Soprano in a local community choir.  In addition, I am fearless leader of the high-traffic group blog, From the Mixed-Up Files…of Middle-Grade Authors and founder of the popular weekly #MGlitchat on Twitter.
The "Getting to Know You" Bio
My favorite books when I first learned to read were In a People House by Theo LeSieg and Hand, Hand, Fingers, Thumb by Al Perkins. C.S. Lewis' The Chronicles of Narnia series became a favorite in elementary school (I still have the entire set my parents gave me for my 11th birthday) as well as all the Nancy Drew, Trixie Belden, and Hardy Boys books, too.
I couldn't get enough of Susan Cooper's The Dark is Rising in middle school, and I also started reading Agatha Christie about then.  By high school I was obsessed with the classics–Heart of Darkness by Joseph Conrad was my most favorite, but I also loved The Three Musketeers by Alexandre Dumas and every Sherlock Holmes story ever written by Sir Author Conan Doyle.
When I'm not busy with writing or reading what others have written, you can usually find me wearing a big straw hat, knee deep in one of my many gardens.  On our property, we have a huge vegetable garden, fruit trees, grapes, herbs, and lots and lots of flower beds.  I try to talk my husband and five children into coming outside with me, but they like technology more than the gardens.  I don't get it, really.
I also sing. A lot.  I'm currently one of many 1st sopranos in a local community choir.  And yes, I can sing really high.  I sing the high descants whenever I can find them. It's my favorite part of singing.  I love all kinds of music, from classical to broadway to hymns, country to oldies to pop tunes.  I'm not a fan of rap or hip hop, though.
Because I love music so much, I also adore watching old musicals from the 1940's-1960's (actually, I love the comedies, too, even if there's no singing or dancing involved).  Since they aren't on television as much as they used to be, it's hard to find a good one to watch these days, though.  I also adore the Anne of Green Gables mini-series and other film adaptations of classic novels (ones based on any of the books by Jane Austen are some of my favorites, but I watch almost any film adaptation I can find).  I also love love love Psych, the only contemporary TV show I have found that I love as much as my musicals or bookish movies. (Okay, I'll admit it.  I'm also a Downton Abbey addict. But it's because of the setting and the costumes and not the story…trust me on this.)
Oh, and speaking of addictions, I love office/school supplies.  The cooler they are, the better.
The "Tell Me Your Entire Life History" Bio
I was born five days after Valentine's Day in Bountiful, Utah–the same year the USA celebrated its bicentennial. This makes me an official Bicentennial Cupid Baby.  There were lots of celebrations going on that year, but unfortunately I was too young to remember any of them.
I was the first child born to Gordon and Margaret Putnam, and the first grandchild to both sets of grandparents. I was a favorite with all my aunts and uncles—six on my father's side and six on my mother's side—until my siblings and cousins came along, that is.  I have two brothers and two sisters, and a grand total of twenty-eight cousins.  (I think.  It got hard to keep track after Cousin Number 15 or so.)
I spent most of my childhood moving from house to house as my parents tried to figure out where they wanted to live. My dad was a general contractor, so he'd often build a house, move the family in, and start building another one. While we were moving, I was singing.  I began my singing career with my siblings: we were booked as the entertainment for my aunt's wedding. I think I was 11 at the time.
My writing career began in elementary school, too, where I would often get in trouble for writing book reports that were too long. I won a writing contest during those years, too, and was one of two students at my school chosen to go to a city-wide writing conference. It was my first introduction to the world of writing stories for publication, particularly mysteries. My unpublished (and unfinished, come to think of it) mystery novel for adults, Down the Bloodstone Path, is based on some of the ideas I gathered in that writing conference.
During those formative years, when I wasn't singing or writing I was dreaming about meeting whom I thought were my extended family; the owners of the G. P. Putnam's Sons publishing company in New York. I was devastated when I found out the only things I shared with Putnam's founder was a last name and a very distant relative–my 23rd great-grandfather and his 15th, who happened to be one of the founders of Salem, Massachusetts (yes, that Salem). (For the record, it was the other side of the family who started that mess.)
In junior high I turned to journalism, and spent time as the Editor-in-Chief of my junior high newspaper. I also made it into Bel Canto, the select (by-audition-only) choir at my school.  Then I attended Bingham High School where I twirled a flag, sang in several choirs (including the audition-only Cantatrice and, later, Madrigals), and earned the respect of all by talking the choir teacher into letting me be in charge of the choir department's finances. At least, I think my high school buddies were impressed by that. At the same time I was counting money for the choir, I was collecting advertisers for the school newspaper as the school's Advertising Manager.
After high school I set aside music and chose writing.  I went on to be the Copy Editor of my college newspaper and the Promotions Chair for the Student Government/Student Activities Department, where I was in charge of advertising all student activities. That all sounds very impressive, but really it meant I spent most of my college days stuck in front of computer screen, either checking for bad grammar or moving horribly-placed graphics.
Like most writers, I've held a bunch of random but completely fascinating jobs (if you don't believe me, just look up the bios of a few other authors). I've been a shoe saleswoman, a cashier, a bookkeeper, a ride operator at an amusement park, a secretary and receptionist, a mail encoder for the US Postal Service, a data entry and quality control worker for health companies, the financial clerk of a chain grocery story, and of course, a book seller at a retail bookstore. I've also done a lot of babysitting. A lot.
In 1995 I met my husband, Greg, and we were married in February 1996 (three days after my birthday, as a matter of fact). Then we started moving around at an alarming rate. This was totally normal for me, though a new experience for my husband. By my count, I have now moved thirty-two times.  I'm really good at packing because of it, and if I didn't love writing so much I could probably make a name for myself as a professional packer at a moving company.
Oddly enough, with each move to a new state, we added a new family member.  One child was born in Texas, one in Colorado, one in Washington, and two in Utah.  Last time I counted, that equaled five children.  My husband and I currently reside with all of them and a pet dog and fish in Utah. I've taken up singing again, too, and am a 1st soprano in the local Davis Master Chorale. I don't know how long this will last, though. Knowing our track record, we'll be moving soon.